Identity system and application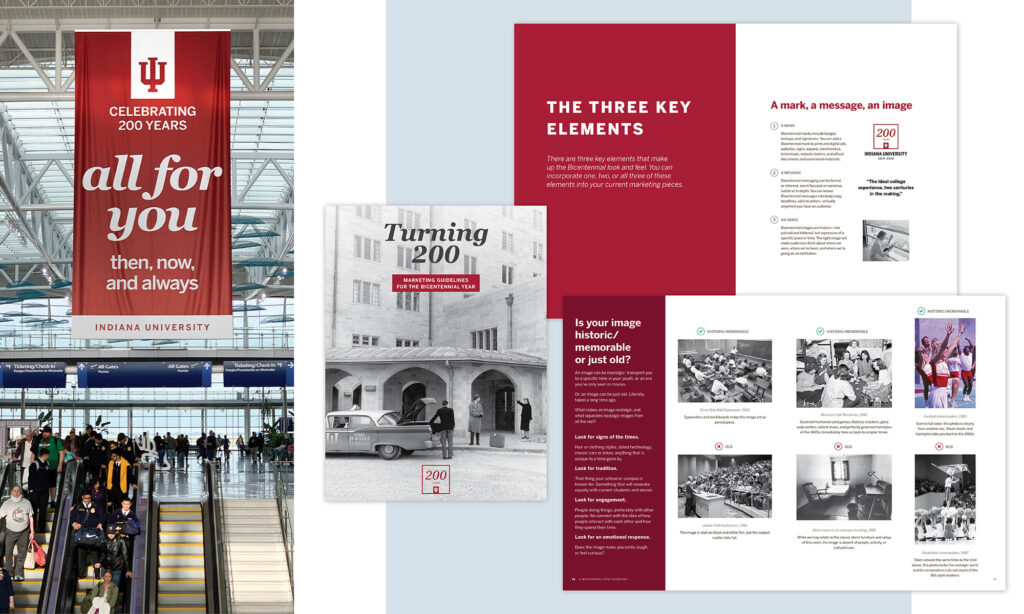 As Indiana University approached the 200th anniversary of its founding, I was on a team tasked with developing a guide to help schools and departments "turn 200" in a consistent way. Anniversary marks had already been created, but we needed to show marketers across the campuses how to celebrate the event by combining their unique assets with shared Bicentennial assets. A content specialist focused on messaging and I developed a photo and design strategy. Together we created a tiered system—created as a digital guide and website—allowing users to apply the Bicentennial elements in a light, moderate or heavy way according to the needs of their specific projects. This system formed the foundation for everything from ads, digital signage, campus banners and a traveling exhibit to share IU's Bicentennial with audiences across the state.
Of the many Bicentennial projects I worked on, the Big Red Bus was (as its name implied) the largest. I designed the exterior wrap of the bus and assisted an exhibition company to create the interior displays. I provided curated archive images for the displays and provided guidance on typography and placement of informational labels.